The wide range of cosmetic procedures presented at the Velur will allow us to give your skin special care, revitalize and rejuvenate it with the help of peelings, laser and apparatus techniques. We follow the biggest and the most efficient beauty trends.
Apparatus procedures
The spa Velur is supplied with numerous equipment which is both effective and safe for our visitors.
To make your skin and body look gorgeous, we suggest unique – at least for our city – technologies of machine cosmetology:
pressotherapy (we use Pulsar by the French brand Starvac) helps to get rid of edema of different causes and types, fights cellulite and obesity, improves saggy skin, making it smooth and elastic. One more sphere where pressotherapy can be applied is healing of severe strains, varicose veins prevention and treating. Pressotherapy also effectively removes the feeling of heavy legs;
vacuum therapy DERMO HEALTH for face & body (the machine is Body Health Master) effectively fixes the problem of any cellulite type on any grade, as well as localized fat depositions. This therapy reduces swelling in the affected skin and increases lymphatic flow to remove toxins and water retention;
pulsed ultrasound helps to get rid of the extra layer of fat. It is a safe alternative to liposuction;
radiofrequency skin tightening involves using energy waves to heat the deep layer of your skin. This procedure guarantees neck & neckline, hands and hips skin tightening. It affects and stimulates subdermal collagen production;
microdermabrasion (it is also known under the name "diamond scouring") is a beauty procedure that presupposes the removal of the outermost or most superficial layers of the skin. It also removes mild wrinkles and acne scars. Microdermabrasion accelerates skin regeneration and stimulates collagen production, thus improves elasticity;
the oxygen peel is a safe and noninvasive deep cleaning technology. This procedure should be suitable for every skin type, for it uses only oxygen and water. This is a great way to keep your skin hydrated!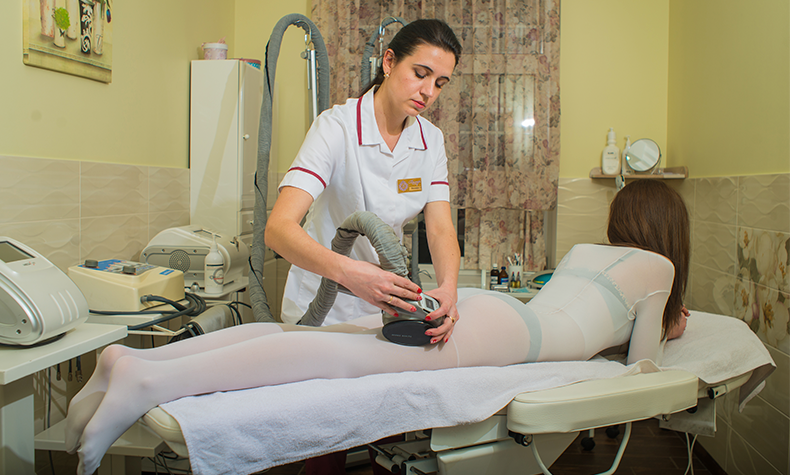 Cosmetic treatments
The latest skin care products and unique care programs will help to remove signs of environmental stressors on skin, get rid of skin imperfections, nourish and hydrate it, as well as slow signs of aging.
It is a challenging task to create beauty, but cosmetologists of the spa Velur know how to pick the right methods and create an individual care plan. They will also make you feel welcomed and give you valuable tips for the great skin. It is our goal to find the best professionals and choose the most efficient skin care products, so you could achieve the result that you want. All procedure are absolute painless, have a sparing and lasting effect.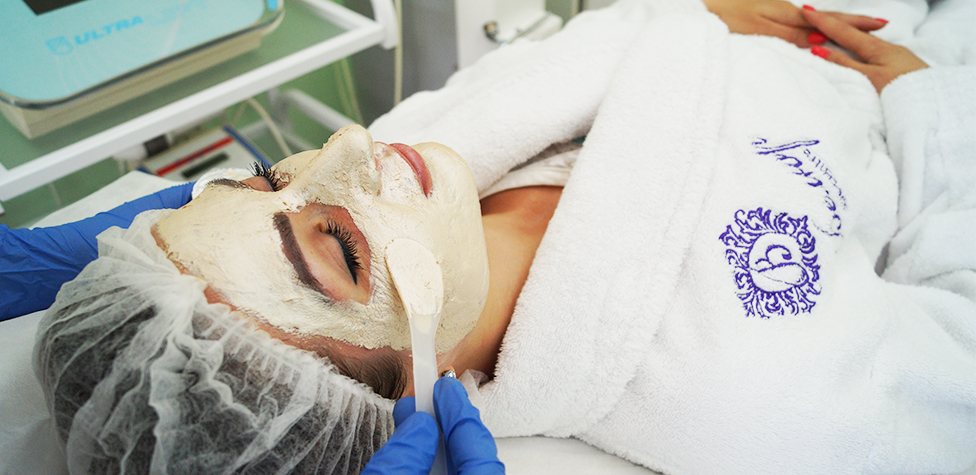 Laser treatment
Feel the healing power of light and see its wonderful effect on skin rejuvenation. With the help of this therapy, you can achieve new results. Laser and light therapy is one of the most promising methods of machine cosmetology.
Facial & body laser treatments include a wide range of beauty procedures such as mole and papilloma removal, skin rejuvenation, broken capillaries & spider veins removal, as well as unwanted hair removal for a term of 5-6 years. Light and laser therapies are extremely popular, for they have a lasting effect, which is either hard to achieve or simply unachievable with the use of traditional beauty treatments. Here, at the spa Velur, all laser therapy procedures are done with the Nd:YAG and FT laser Deka Synchro HP, made in Italy. It combines high efficiency, safety, high capacity and accuracy.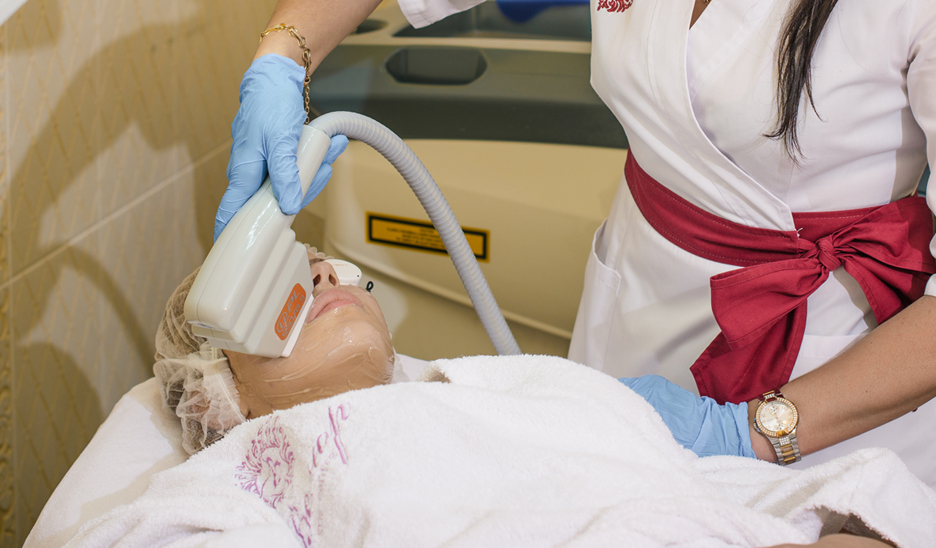 Peeling
Peelings are an integral part of facial and body treatments. Repeat this procedure regularly to make your skin look smooth, soft and simply flawless.
A peel is technique used to exfoliate the outer layer of dead skin, so it would peel off eventually. That dead skin layer affects skin color, prevents absorption of nourishing elements and causes skin to lose elasticity. Skin has a wonderful ability to self-regeneration, but this is a very slow process which requires both time and patience. To accelerate this process, we use peelings. What is more, regular procedures help to improve skin regeneration, making your face and body look even better.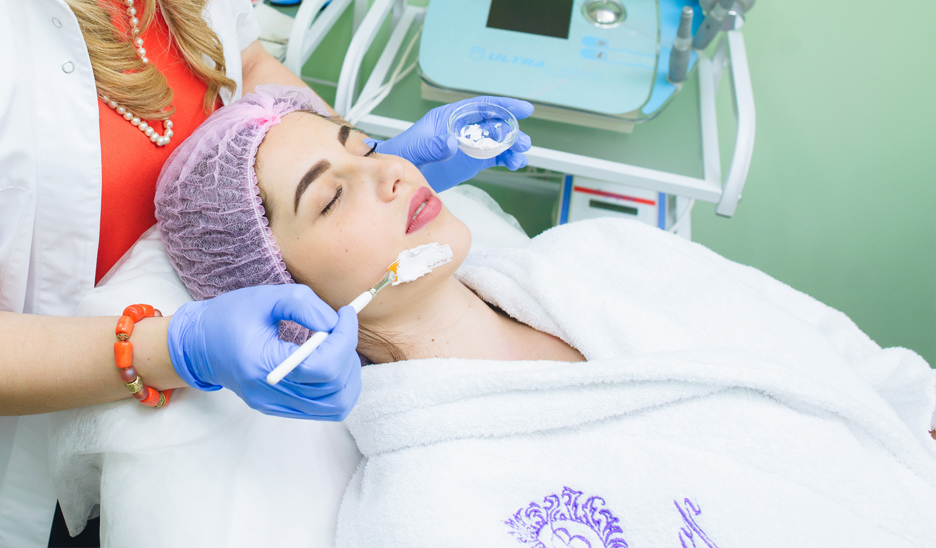 Aesthetic medicine
Aesthetic medicine procedures at the spa center Velur are represented by the latest non-invasive methods of plastic surgery and skin rejuvenation. These procedures help to get rid of mimic wrinkles & crease lines, as well as skin changes that come with age. They also have a face-lifting effect. With the age, a person produces about 1 percent less collagen in the skin each year. Due to it, skin becomes thinner, while mimic muscles become weaker. Gravitational forces also play their vital role in face aging. The latest anti-age technologies can make your skin look young and smooth, rejuvenate the entire face and body, remove wrinkles, improve body shape, burn localized fat and cellulite, what is more important they help to improve health.
Being true professionals, specialists of the spa Velur strictly follow laws for a harmonious appearance and natural aesthetic, thus they will never recommend you an ineffective procedure. Using contemporary technologies that are safe and sparing and complex methods, they try to highlight natural beauty of every person.